Below are our current Angels with active makeovers. Help us complete their rooms by purchasing fixtures, decor, and more via donation in the Angel Store!
Landon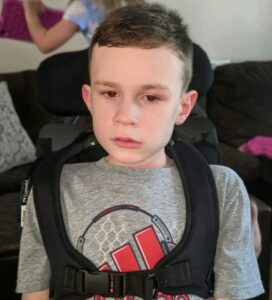 Meet Landon! Landon has a seizure disorder, is wheelchair dependent, nonverbal, and has developmental delays. Landon is GROWING, and his family needs Welcome Home Angel's help transporting Landon around their home through a ceiling lift system and especially to/from the bathroom, as it's beginning to take a physical toll in providing daily care. Landon's makeover will feature a wheelchair-accessible bathroom, in addition to a specialized PT therapy area and mini-makeover for his sister.

Design Team:
Designer: Smith + Gsell Design – Renee Smith and Susan Gsell

Contractor: Mike Hunter – Hunter Gather Properties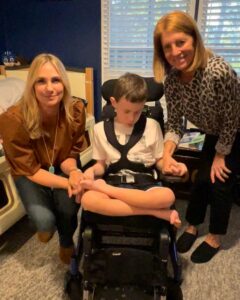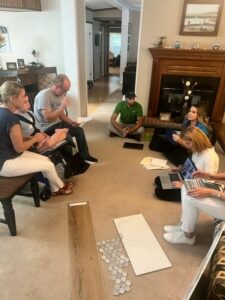 Alexyss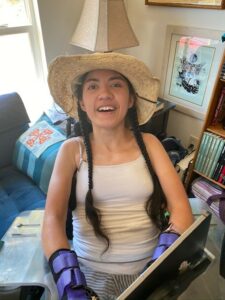 Meet Lex! Current plans for Lex's makeover include the addition of a lift system, custom storage solutions for her medical supplies, and a fully accessible bathroom with roll-in shower. Lex is an incredible artist and her room will reflect her love for digital art, her cat Romeo, and her favorite colors – teal and purple. 
Design Team: Nancy Parrish Interiors & Core Carolinas
Asa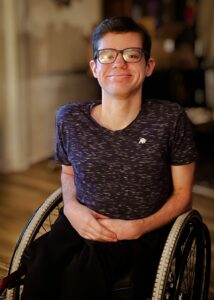 Asa is a vibrant teen who loves classic rock and movies. As a senior in high school, he strives to be increasingly independent and plans for his makeover have been developed to support this goal.
Proposed changes to Asa's spaces include the creation of a fully accessible bathroom, increased opportunities for storage and organization of medical supplies, development of a PT/rec space, and modifications to the kitchen space.
Design Team: Nancy Parrish Interiors, Hunter Gather Properties, and Kristen & Co. Organizing
Amia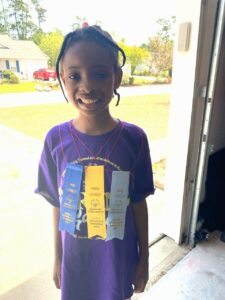 Meet Amia! Amia starts her mornings off early and greets each day with a song. Her design team is planning to celebrate her love for music and dancing while creating a safe space that supports her sensory needs and provides educational opportunities through play. They will also be working to transform the family's sunroom into a shared living space where each family member can enjoy their own hobbies but can also engage in activities together.
Design Team: Mungo Homes and Magnolia Project
Dylan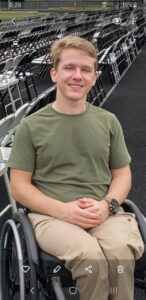 Meet Dylan! Dylan is a recent high school graduate who will soon be enrolling in college classes to eventually pursue a career in a technology-focused field. As he embarks on this next chapter in life, he would love a space that better promotes his independence. The design team identified will assist with the purchase and installation of a new tub and faucet, vanity top with faucets, vanity mirrors, vanity lights, closet storage solutions, and new flooring (potentially LVP) in Dylan's bedroom to make mobility easier. He would also love a bedroom refresh with new furniture that allows for additional storage.
Hailey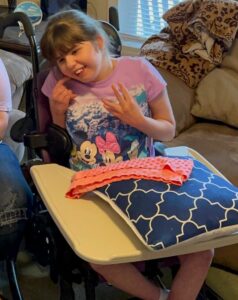 Makeover: COMPLETE!
Meet Hailey! A whimsical mural with sensory wall, as well as a swing and sensory toys selected by her in-home therapist, will help to create a fun, soothing, and interactive space for Hailey in her bedroom.
A custom Dutch door with grab bars was installed to promote safety while allowing for interaction with caregivers and building of strength and maintenance of muscle tone, and a custom closet creates organizational options for medical supplies.
A fully accessible roll-in shower and floating sink will assist caregivers in helping Hailey with completion of daily hygiene tasks.
Design Team:
Designer: Hooper Patterson Interior Design – Hooper Patterson

Contractor: Mike Hunter – Hunter Gather Properties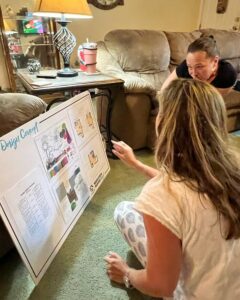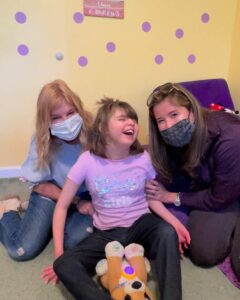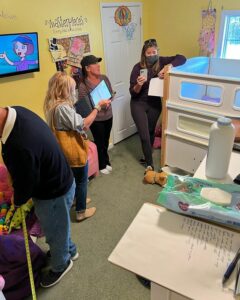 Give monthly and change
the life of an Angel Child.
Want to stay in the loop?
Subscribe for updates.