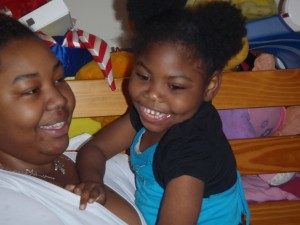 Project Year: 2013
Sierra is a joyful seven year old who has cerebral palsy and microcephaly. Sierra uses a wheelchair to get around and is limited verbally, but she says a lot with her body language and beautiful smile.
The biggest need for Sierra was a safer bed for Sierra to sleep in. Previously, she had been sleeping on the bottom bunk in a type of seat to keep her secure. A safe, new bed with bedrails was purchased and installed. New furniture (wardrobe, dressers, mirror, and storage) were added to the room. Sierra's room was painted and new linens, comforters, and window curtains were purchased. Also, an iPad was purchased with assistive technology was given to Sierra so that she can better communicate with her mother, Monique, and caregivers.
Designer: Troy Kenny, Hagood Homes
Donations:
Troy Kenny and Hagood Homes paid for a new wheel-in shower for Sierra to use. Thank you to Troy and Hagood Homes!