Gabby is eight years old and is one of the 22 new children each year in New Hanover County who are diagnosed with cancer.
She was diagnosed with Lymphoblastic Leukemia at age six, followed by six months of intense chemotherapy, causing her to lose her hair, become very ill, and be taken out of school. She has finished her intense chemotherapy, and has entered the maintenance chemotherapy phase, which will continue into 2019.
Goals for Gabby's apartment home in downtown Wilmington were to give her bedroom a makeover and improve her downstairs study nook. Mom always wanted Gabby and her two-year old sister, Gracie, to share a room, so we needed to create a space for two girls in a very small room. Also, her carpet was old, and was very dirty – not conducive to healing for a child in the midst of chemotherapy with an already-compromised immune system.
Gabby also can't spend much time outside, so it was key to provide space for activities inside. So Gabby needed shelving for books, a cozy chair in her room, and additional options for beds for when she felt well enough to invite friends over for sleepovers.
Photos of Gabby's room, before Welcome Home Angel:
Under the leadership of Leslie Littlefield and the amazing women at Pine Valley UMC Ogden Women by the Sea Circle, we were able to completely change Gabby's bedroom, re-carpeting it, painting the walls (it's an apartment, so they had to be white), giving her a new custom bunk bed with extra storage for toys and books, a comfortable chair that can also turn into a bed for sleepovers with her friends, and tons of fun décor, highlighting her favorite animal, the owl.
Pictures of Gabby's (and Gracie's) new room (thank you Millie Holloman Photography for these incredible photos):
Check out the reactions of this sweet family:
Thank you to all of the volunteers on this project!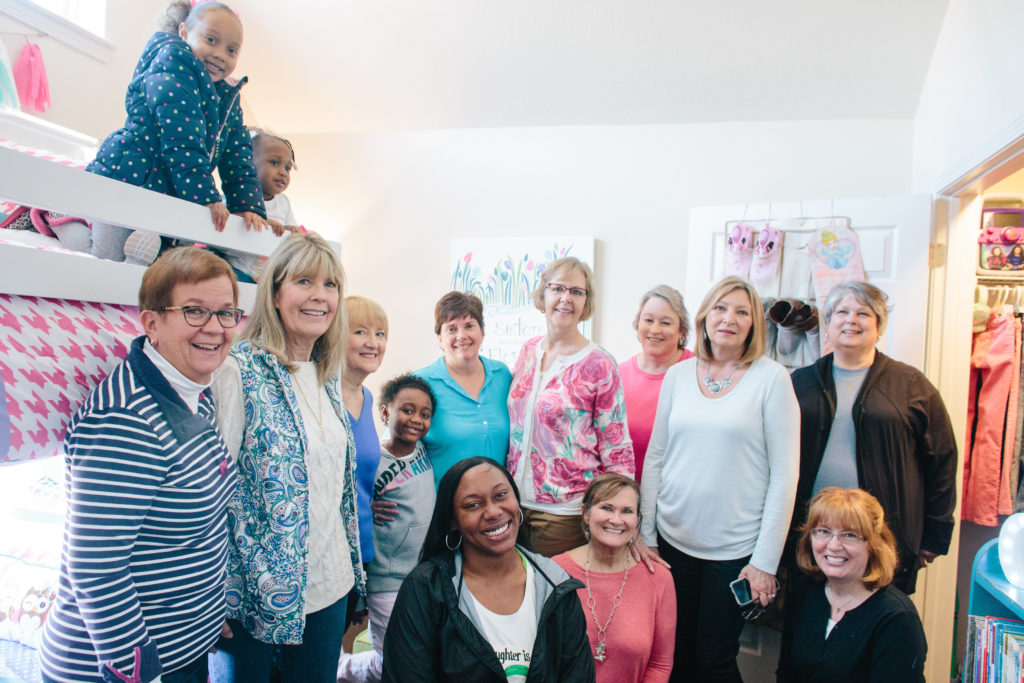 Leslie Littlefield, Design Team Leader
Beth and Mark Biddison
Barb Bittler
Beverly Cheers
Debbie and Courtney Connolly
Pam Craig
Kay and Larry Creech
Cheryl Delk
Kim Emory
Angie Hall
Sandy Kirk
Damon Littlefield
Susanne Miller
Jane Mullins
Linda Page
Darlene and Rodney Pallang
Mary Ellen Simmons
Beth Tedesco
Thank the following community partners for their donations to this project!
Custom Home Furniture Galleries
Beverly Cheers
Kim Emory
High Tide Provisions
Barb Hughes
Angie Hall
Linda Page
See our live video of the reveal here: