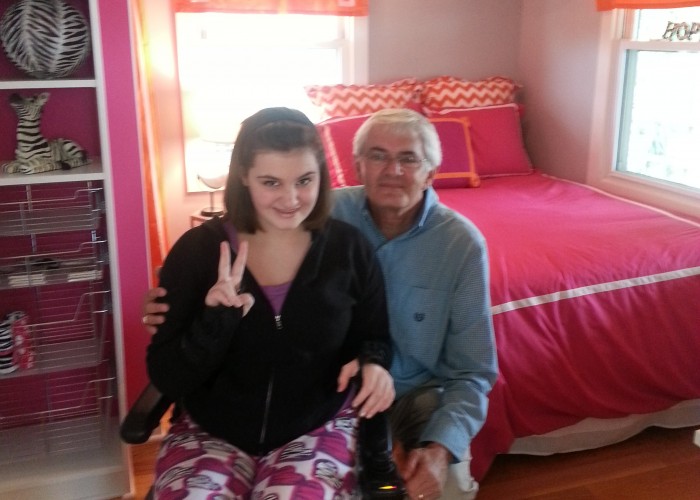 The Heitman family project has been a unique and special opportunity for Welcome Home Angel to make a vital impact. Lee Anne is the single mother of Christian and Erika, which is a challenging task in itself. Four years ago it was discovered that Christian had an intracranial bleed and he underwent emergency brain surgery at Duke University Medical Center. The surgery left Christian with a traumatic brain injury. A multitude of surgeries and hospitalizations followed, and as a result Lee Anne was unable to keep her job. The family then lost their home to foreclosure. Around this time, Christian was diagnosed with another challenge to his health, pilonidal cyst disease. He develops cysts that require surgery and home care; another blow to the family's situation.
The struggle then intensified in a way that no one could have predicted when Erika began to experience pain in her back. After X-rays and a MRI, it was found that she had scoliosis, kyphosis, and a stress fracture in her thorax. Her stress fracture would not heal and many other joints developed issues. Erika was eventually diagnosed with Ehler-Danlos Syndrome (EDS), a degenerative connective tissue disease with no cure. EDS is caused by mutations in the genes of collagen or the associated proteins which severely compromises the integrity of the body's connective tissue. This leads to constant sprains, dislocations, and pain. As a result, Erika now relies on a powered wheelchair to get around. She has also experienced complications with her heart due to EDS.
For the past two years, the family shared a one bedroom apartment. Christian stayed in the bedroom, Erika in the dining area, and Lee Anne slept on the sofa. Fortunately, Lee Anne's parents inherited a modest beach cottage in Carolina Beach and it was given to Lee Anne. Bryant Bass of Bass Built Homes took on the construction project after two previous contractors backed out. Not only did he step in when others would not, he went above and beyond through the gracious giving of his time and resources. Makeovers by Welcome Home Angel are done on the bedrooms and bathrooms, but Bryant took on a whole home renovation at no additional cost to the foundation or family. He also recruited compassionate subcontractors to assist in the renovations (listed at the end). Stacy Bernhardt with Indoff Business Interiors performed the design work for the beautiful new Heitman home.
The reveal party for the family took place on the 15th of October. They had not moved into the newly acquired home prior to the renovations nor had they seen any of the changes. Around 50 people, including WHA, family, contractors, friends, and church members, showed up to welcome home Lee Anne and Erika. Erika had just been discharged from UNC-CH and the two arrived at their new home to find a crowd of supporters in their driveway. Erika was not aware of the welcoming party, and upon seeing everyone, she dropped her head to her hands in shock. Christian walked over to greet his family and then came time to test Erika's power lift up to the home. She boarded the lift and ascended while everyone cheered her upward. Stacy and Bryant handed the key to the home to Lee Anne and the three of them approached the door.
With the turn of the key, the family entered their lovely new home and looks of shock painted their faces. They stood in the doorway for several moments soaking in their new reality and then it was off to explore their home, bathroom, and bedrooms. The house makeover was designed with Erika's wheelchair needs in mind. The space is opened up so that she has access to every part of the house. She can be wheeled directly into the shower area and she now has an electric, adjustable bed. A zebra theme, which is the pattern used to raise awareness and support for EDS patients, is present throughout her room. Christian's room was designed to complement his enjoyment of video gaming through shelving units to hold his video consoles and television, a gaming chair with built in speakers, and video game decals on his wall.
As Erika went around checking everything out, she kept asking "Is this mine?" Yes, this house belongs to you all.
Articles:http://www.starnewsonline.com/article/20131016/ARTICLES/131019772/0/http://islandgazette.net/news-server5/index.php/features/events-and-features/local-events/19280-fundraisers-coming-up-for-local-family
Erika's Personal Video:http://animoto.com/play/tGlE0ZLReB0ZJGeXZQA28w
SPECIAL THANKS
House Renovation Companies and Donations:
Bass Built Custom Homes: Demo, framing, and painting (Project management)
Stacy Bernhardt, Indoff Business Interiors: Designer
JLong Custom Homes: Demo and framing
CK Supply: All sheetrock material
Belew's Drywall: Installed all sheetrock
Pye's Inc: All electrical work
Foremost Builder Services:Installed all insulation
Longley Supply Co.: Supplied kitchen faucet, toilet, sink, and shower fixtures
Robert's Plumbing and Repair: Re-plumbed whole house with new fixtures
Atlantic Appliance: New refrigerator, dishwasher, range, and microwave
Kinetico: Supplied and installed water softener
Ed Newsome's Hardwood Floors, Inc.: Installed and finished all hardwood flooring
Prestige Kitchen and Bath: All cabinets
Builder's First Source: Supplied trim and framing materials
Top Shelf Waste: All trash work
Closet's By the Sea: All closet work
AFK Masonry: Supplied and installed concrete pad
101 Mobility: Donated installation of lift
Taylor's HVAC: Supplied and installed new central heating and air Train system
Deanwood International: Supplied hardwood flooring
Florida Tile: Supplied tile
TGB Carpentry & Tile, LLC:Installed interior trim
Island Tackle & Hardware:Donated miscellaneous items
Bame Ace Hardware: Donated miscellaneous items
Thyme Savor Catering: Catered reveal event
CBS Roofing