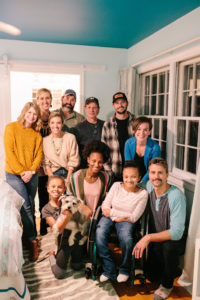 Ava is a smart and independent teenager with spina bifida. Her parents, Jvanete and Matt, purchased their home because it already had some accessible features that would allow Ava to be more independent, including an accessible play room and bathroom on one side of the house. However, Ava's master bedroom suite needed work. Because Ava's independence is important to her, we wanted to make sure her bedroom and bathroom suite would work. She needed wider doorways into the bathroom, with a walk-in shower, so she could easily transfer from her wheelchair or walker to a shower seat. She needed better storage for her medical supplies, and a closet that was suited for her height.
We cannot thank Lindsey Cheek enough for her hard work on this project. Sellers Tile completed this amazing bathroom renovation, and we are forever grateful to them. Thank you to California Closets for the donated closet design, and Gallery of Oriental Rugs for the amazing rug! Also, thank you to Sullivan Anlyan for her original piece to hang above Ava's bed.
Vivian wanted light and fluffy, and that's exactly what she got! Vivian and doggie-sibling, Moonpie, are going to love their new room.
---
Thanks to all of the following community partners:
Sellers Tile, Justin Sellers
California Closets
Gallery of Oriental Rugs, Shahrzad Gardner
Sullivan Anlyan
Forged Custom Concepts, Jimmy Cushing
Bill Christopher, Christopher Building Company
Brian Meade, Meade Electric
Brandon Parrow
Laura Park
Gigi Lane
Rik Littlefield
Patti Gilley
Lindsay Cowles
Penny Grainger
Two Men and a Truck
The Metros Other Woman
Mille Holloman
Enrique Juarez