Aaron is an adorable seven-year-old (almost eight) with cerebral palsy and seizures, who is cared for by his wonderful grandparents, Sylvia and Martino. Aaron was beginning to grow larger, and simple things like bathing him and moving him from his bed to his wheelchair were starting to become difficult for Aaron's grandparents.
Aaron's bedroom, before…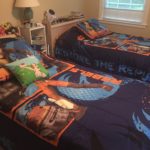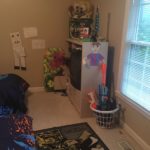 Aaron shared a bedroom with another family member, but the space wasn't ideal for him and his condition. The family needed a way to easily transfer him from a safer bed to his wheelchair, and then easily get him to the bathroom. He also needed a fun space that was truly his own.
With the help of funding from CAP-C services and Aaron's grandparents, Welcome Home Angel was able to help give Aaron a much safer place in which to sleep, play, and live. With his new, safe bed, and new lift with tracking system, Aaron's grandparents can now easily transfer him from bed to wheelchair, and from wheelchair to bed. The track also allows them to transfer him into the bathroom next door with ease. And lastly, Welcome Home Angel was able to provide Aaron with a swing set outside, with a special swing, just for him, so he can play outside with his family!
Please check out this amazing video of Aaron's new room, courtesy of our friends at 101 Mobility.
---
Thank you to Dolores Reese and her entire Design Team for a life-changing makeover for Aaron!