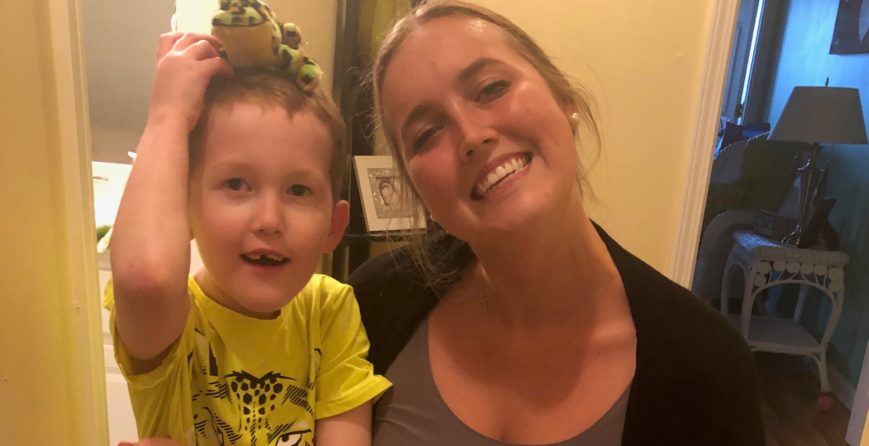 Grayson was born at 34 weeks. He had feeding issues from day one, and did not walk until 22 months old. He didn't speak until past his third birthday. He has a gene variant and micro deletions, but no specific diagnosis related. The result of the genetic abnormality has been significant challenges with balance, muscle development, and academic performance. He is eight and a half, but is developmentally around six and a half. Grayson's legal guardians (who he calls Mom and Dad) say that they never expected him to walk or talk, and are so proud of his improvements. He walks with orthotics on his ankles at school or when walking long distances, but can walk around in the home without trouble.
Grayson has significant sensory overload issues, causing him to struggle getting to sleep at night. Luckily, he has two rooms in the home – one for active play and one for sleep. But unfortunately his room that was supposed to be used for sleeping was not giving him the calming sensory opportunities needed to help him relax and actually get to sleep. Here are some pictures of his old bedroom:
The furniture he had in his room wasn't even his – just hand-me downs. Grayson had never had his own furniture before. When he was just a baby, his grandparents adopted him, upon his mother's passing, and they have been struggling just to get through each day, ever since.
Instead of keeping his current bedroom beside the playroom (which didn't help with calming, because both rooms are easily accessible to him) we moved his bedroom to the room upstairs above the garage. We ripped up the old carpet – Grayson has allergies, so this was for his health. We converted a portion of the attic to a large closet, so that all of his clothing and toys can be stored in an organized way and out of sight (to help keep him focused on being calm). We created a beautiful woodland-themed bedroom with the intention of creating calming and cozy spaces. A custom bed was made for Grayson that feels like an enclosed space, which will help him calm himself and sleep – before this intervention, he used to hide under his own bed, just to calm down. Multiple soft sensory items are placed in the room to give him comfort, such as a soft fox chair. Storage under his television houses an electric fireplace, which creates a soothing, yet safe, atmosphere. Grayson and his parents were thrilled with the new room. Incredible video of this Reveal was broadcast live on WECT on May 7th.
The volunteer Design Team who did this incredible makeover are Carole Sheffield of Blue Coast Realty and Jesse Davis, owner of The Penthouse.